TD Ameritrade has been around for over 40 years, and since inception, has proven that they have what it takes to give customers an all-round great experience. For traders, TD Ameritrade is a household name and with good reason. Making waves with their exemplary customer service and attention to detail on the various trading platforms, these guys have set the benchmark pretty high in terms of what customers can expect. While predominantly an online brokerage, those who find themselves can go to the walk-in service centers when help is needed. Will TD Ameritrade stand up to the test when rated against its peers? We think so, and here's why.
Quick Facts
TD Ameritrade has an asset holding that exceeds $1 trillion
Customers have access to both trading and traditional investments
Trading commission starts off at $6.95 per trade
TD Ameritrade is rated as the #1 brokerage across various reviews
Customers are not required to keep their accounts funded, and there is no penalty payable on unfunded accounts
There is no trade minimum
Customers who deposit $3,000 or more enjoy a 60-day commission free period on certain items
Higher deposits can attract trading bonuses of $100, $300, or $600
Customers enjoy free access to the educational tools
The thinkorswim platform offers a demo account with $100,000 in demo cash to get traders started
Visit Broker TD Ameritrade!Investitionen bergen das Risiko von Verlusten
TD Ameritrade Does Forex Well
An online trading platform that offers a host of financial products can skimp a little on certain products, and for forex traders, it's often better to go with a platform that offers forex trading exclusively. With TD Ameritrade, however, traders can rest assured that they would find the same level of service on the forex side as any other investment, as TD Ameritrade invests their money in things that are important to customers.
The thinkorswim platform is a gamechanger in the industry and while it doesn't have quite as many users as MT4 or MT5, it's hard to fault it. This platform provides unparalleled support to its users that includes up to date ticker information as well as social feeds. Traders have access to 24/5 trading, app syncing, chat rooms, custom alerts, and more.
Traders have access to over 70 different currency pairs and the result is a well-balanced forex portfolio. The forex pairs range from major to exotic, and traders have different leverages and margins, depending on which option they go with. Those who stick with major currency pairs enjoy a leverage of 50:1 with a $200 margin requirement. Exotic pairs have a leverage of 20:1 and has a $500 margin requirement.


TD Ameritrade Trading Offer
One of the most fundamental offerings a brokerage can make to a customer, is by providing them with the right tools and information to make the trade effortlessly. TD Ameritrade provides traders with the right tools, whether they make use of the web based platform or thinkorswim, trading information is always just a click of the button away. The trading platforms make use of items such as the Earnings Tool to aggregate countless bits of information to allow traders to make the right decision. Customers also have access to the Customer Sentiment and Economic Data Tool in order to make the right decisions when making a trade.
Customers who find bonuses and incentives important have the opportunity to earn these when they sign up for trading accounts with TD Ameritrade. Those who make a deposit of $3,000 or more, qualify for a 60-day commission free period on online equity, ETFs, and options trades. Those who deposit $25,000 or more, also qualify for a $100 bonus. A deposit of $100,000 or more qualifies for a $300 bonus and a deposit of $250,000 or more qualifies for a $600 bonus. For traders, these commissions and bonuses can add a substantial figure to their trading profits.
Visit Broker TD Ameritrade!Investitionen bergen das Risiko von Verlusten
Talking About The thinkorswim Platform
The thinkorswim platform is quite the game changer in the market and rivals some of the best, such as MT4 and MT5. For traders, trading on the thinkorswim platform is a good investment as its suitable for beginners who are serious about learning to trade, and for those who require more specialized tools to perfect their trade. Therefore, it's a start to finish platform for all levels of traders.
Serious traders who want to have access to the most advanced trading platform TD Ameritrade has to offer, will be amazed that the level of sophistication that is packed into it. It includes access to tools and analytical resources that will set their trading game apart. While the web platform offers more accessibility on the investor side of things, thinkorswim takes care of the traders. Customers have access to:
Conditions Orders
Level II Quotes on Equity and Option Trades
TD Ameritrade Network and CNBC Streaming
Visual Position
Strategy Roller
And paperMoney Virtual Trading
Users will find the community-based options to be a treat, as the platform provides access to market and options heat maps, as well as the Ameritrade community, called my Trade. While the web platform is only accessible through the site, the thinkorswim is an app that is installed on a desktop or mobile device.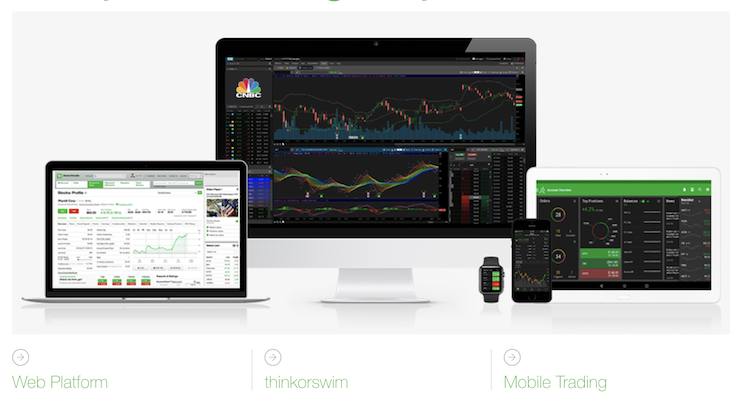 TD Ameritrade Offering Crypto Options Soon
Traders will need to take note that TD Ameritrade has invested in ErisX, which offers groundbreaking opportunities to traders. The product range they plan to introduce include cryptocurrency spot contracts and futures contracts. Currently, ErisX is still in the development phase and awaiting regulatory approval. For traders, these additional products will ensure that they keep all their financial products in-house, as TD Ameritrade offers every possible financial product outside of the regular transactional banking products. A good product to start off with in the interim, is the bitcoin futures option that is available to those who meet the minimum account criteria.
Visit Broker TD Ameritrade!Investitionen bergen das Risiko von Verlusten
What The Market Thinks Of TD Ameritrade
It's not hard to see why the market's perception of TD Ameritrade is good. They play host to a number of products that allow their clients choice pickings, while at the same time providing an exemplary level of service. For traders, it's that service delivery that sets these guys apart. Google reviews for TD Ameritrade and its hard to come across a review that doesn't have the brokerage right at the top, let alone in the top 3. For traders, it's this absolute trust in their delivery that makes them the perfect match.
Those who wish to wage price wars should exclude TD Ameritrade, however. The brokerage is known for its absolute transparency when it comes to fees, and albeit high, traders know exactly what they're paying and when. When the brokerage is marked down on reviews, it tends to be because of the minimum trading fee of $6.95. While other competitors charge substantially, less, that doesn't mean that it causes customers to jump ship and trade with them. Instead, customers have become accustomed to these fees in order to enjoy the sheer pleasure that is dealing with TD Ameritrade.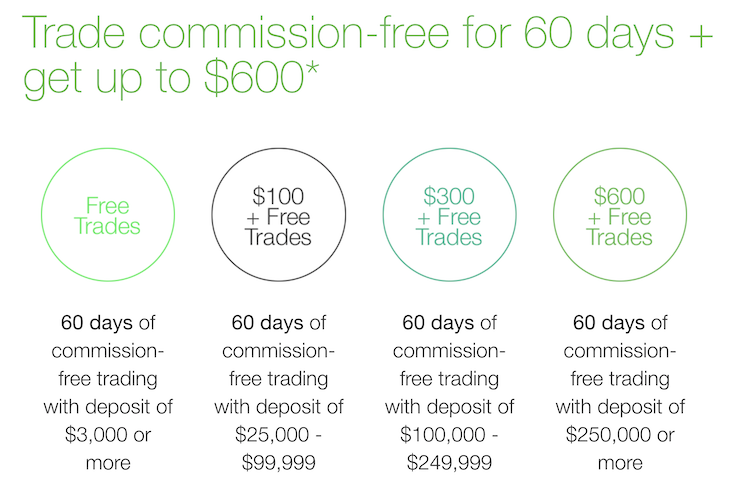 Education That Sets A New Benchmark
Perhaps one of the best features of signing up with TD Ameritrade is the access to a wealth of educational resources. For instance, the immersive curriculum provides traders with access to a number of learning materials that span from Simple Steps for a Retirement Portfolio to Weekly Options training. For those new to any type of investing, even trading, this curriculum is worth the work through.
Thanks to its live feed from CNBC, TD Ameritrade has its finger on the pulse of market movements and these bits of information are available to traders as they happen. Articles, videos, and webcasts are topical which makes a quick search for the relevant information simple and easy to find. There are also packages specifically designed for those hoping to learn more about retirement and college investments, as well as a section dedicated to tax.
In order to meet others who have the same financial goals and ideals, especially on the trading side, TD Ameritrade often arranges in-person events to help spark further interest. Traders and investors alike can often feel like the world of trading is a lonely one. Thankfully, these events allow traders to meet others just like them and hopefully allow them to cotton on to a winning trading strategy before the close of business.
Visit Broker TD Ameritrade!Investitionen bergen das Risiko von Verlusten
Trading The Various Platforms
While thinkorswim is the best option for traders looking to have a go at products such as forex, TD Ameritrade has three other platforms that users will find interesting.
Web Platform: This option is ideal for the fundamental investor looking to expand their long-term investment options such as mutual funds and fixed income products such as bonds and CDs. While the platform also offers stocks and ETFs, the thinkorswim platform is better geared for those types of products. This platform is entirely web-based, and everything an investor may need is right at their fingertips. Customers enjoy a customizable workspace that includes alerts and screeners. There is also access to the paperMoney Virtual Trading.
TD Ameritrade Mobile: This platform is a companion to the Web Platform and allows traders to stay on top of their trades even when they're on the go. Traders access the account through a phone, tablet, or Apple Watch. The app only has access to stocks, ETFs, and options. For the rest, users will need to log into the website from the desktop.
TD Ameritrade Mobile Trader: This app is a step up from the Mobile App, and provides traders with access to a number of products such as stocks, fixed income products, options, and more. The app connects to news streaming services and users may even request level II quotes on equities and options through this app.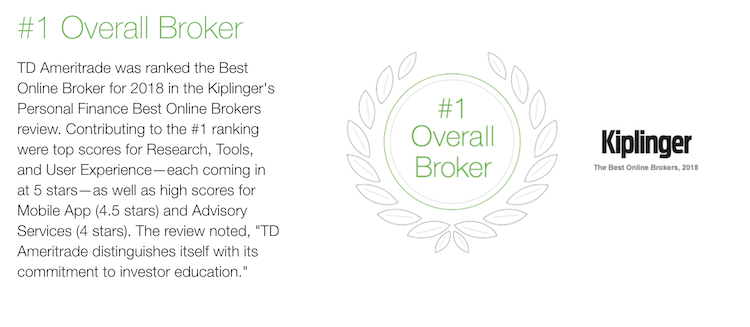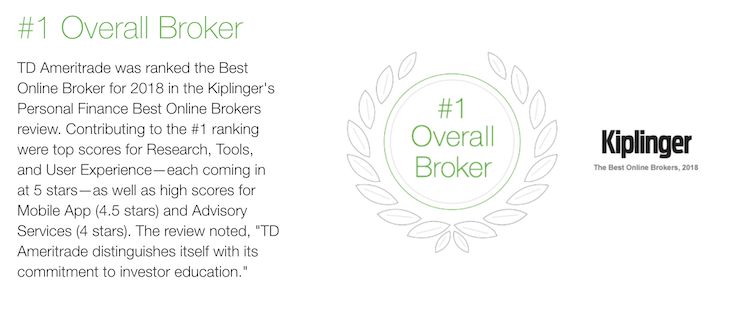 Funding Options For A TD Ameritrade Account 200 words
The theme of simple convenience we've come to expect from this platform carries through to every last transaction, including the funding options. There are 5 primary ways of funding the accounts and users simply need to pick the one that suits them best.
Wire Transfer: This is a hassle-free way of funding the account and is available at the branch. It usually takes around 1 business day to reflect and the best part is that traders don't have a contribution limit on a wire.
Electronic Bank Deposit (ACH): This type of transfer, although the most popular, is limited to $50 and $250,000 which could place a bit of a damper for those who wish to trade outside those parameters. This is a convenient way of transferring though, as it's done online and can take anywhere from 30 minutes to 3 days to reflect.
External Securities Transfer: This option is perfect for those who are already active on another broker's profile. The transfer allows stocks, options, ETFs and other assets to be transferred to the TD Ameritrade account. It takes about a week, however, there is no limit to the size of the transfer. Also, it can be done online.
Check: Clients who are on the go love this option as it can be done through mobile. There is no limit on the size of the deposit and it takes between 1 and 3 days to reflect.
Physical Stock Certificates: This option allows individuals to transfer stock certificates in their name to TD Ameritrade. There is no contribution limit and usually appears within a day of receipt. Also, these need to be mailed in.
Visit Broker TD Ameritrade!Investitionen bergen das Risiko von Verlusten
How To Open A TD Ameritrade Account
It only takes around half an hour to open an account online with TD Ameritrade, and the longest part of that is probably waiting for the transfer to reflect. The requirements for opening an account are simple. Users simply need to have their Social Security Number (SSN) or Individual Tax Identification Number (ITIN) available, along with the details of their employer. Those who aren't citizens or residents of the U.S., a foreign tax ID, passport, or visa will suffice. Users in Canada, China, Hong Kong, Malaysia, and Singapore have their own sites to register for an account.
Those who already have an account, simply need to opt for the autocomplete function to populate the fields, however, additional information might still be required.
There are five steps to the account opening process:
Step 1: This screen includes personal information and investment preferences
Step 2: Users complete information that pertains to their product options
Step 3: This page allows users to verify all the info
Step 4: Users read through and accept the terms and conditions
Step 5: Users create their online credentials and facilitate their funding option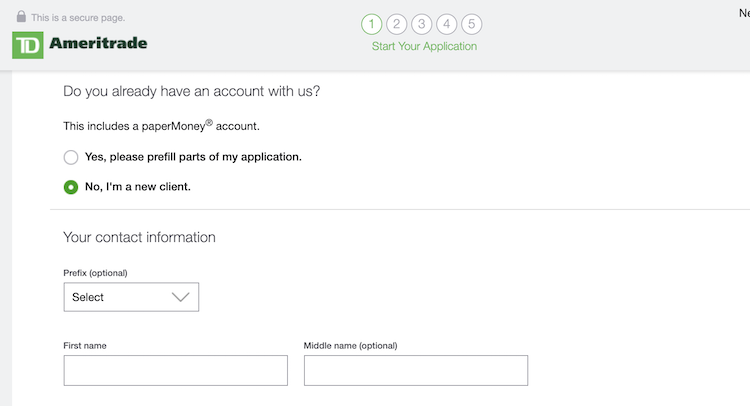 What You Should Know About TD Ameritrade's Fees
If there is ever a fuss or a negative word about TD Ameritrade, it tends to involve the fees levied on the various services. Somehow, users still prefer using this platform and it seems that it's with the sentiment that you get what you pay for. There are no hidden fees on the platform and pricing is straightforward. Customers don't pay an account minimum and there aren't any platform fees or trade minimums.
Stocks start off with a fee of $6.95 per online trade, along with ETFs. There are, however, commission-free ETFs available. Options also charge the $6.95 fee but also adds another $0.75 per contract. Futures come in at $2.25 per contract, plus the exchange and regulatory fees.
Across the board, there is an Interactive Voice Response (IVR) Phone System fee of $34.99 and a broker-assisted fee of $44.99. The other fees are listed on the website to ensure the continuance of clarity and transparency, however, these are the main fees.
Forex is charged at a fixed commission rate. The trades take place in increments of 1,000 units and the commission is $0.10 per 1,000 units with a minimum charge of $1.00.
Visit Broker TD Ameritrade!Investitionen bergen das Risiko von Verlusten
Is TD Ameritrade Suitable For Beginners?
TD Ameritrade is perhaps one of the best setups for a beginner trader, purely due to the vast amount of trading resources at their disposal. Beginners have access to the trading demo account through the thinkorswim or web-based platform. This simulates real-time trading and also provides newbies with $100,000 in demo funds to play around with.
Other resources that ensure beginners are not lost on the platforms include a wealth of videos, webinars, and articles. Online forums are also quite good in terms of steering beginner traders in the right direction. For many who wish to learn the ropes of forex, the thinkorswim platform is the platform of choice.
Conclusion
It's a good day at the office for us when we're able to do a review of a product that works and manages to live up to their claims. For TD Ameritrade, the long list of awards and accolades really do reflect the simplicity of dealing with them. Customer service, website usability, and overall user experience are at an all-time high. Something that they may want to consider, however, in order to get a bigger piece of the trading pie, is re-evaluating their stance on charging fees that may not be quite within the market range. Apart from that, this brokerage is definitely worth a try.
Visit Broker TD Ameritrade!Investitionen bergen das Risiko von Verlusten
Fragen & Antworten zu TD Ameritrade
Where's the broker's headquarter?

TD Ameritrade has its headquarter in Omaha, Nebraska.

Is TD Ameritrade a regulated broker?

TD Ameritrade is regulated by FINRA.

Can I test trading on TD Ameritrade in advance?

Yes, TD Ameritrade provides a free demo account.

What commercial products does TD Ameritrade offer?

At TD Ameritrade you can trade for examle stocks, options, etfs, mutual funds, futures and forex.